Independence 10k Run Celebrates Active Spirit and Camaraderie
Necklace Road, Hyderabad - Life's A Pitch, a premier sports organization, successfully organized the Independence 10k Run,2023 a vibrant and spirited event held at Necklace Road, Hyderabad. The event witnessed an overwhelming participation of 1500 runners, showcasing their commitment to fitness and community engagement.
The Independence 10k Run encompassed a range of categories tailored to suit various preferences and abilities. Participants had the option to compete in the 10K timed run, 5K timed run, or untimed runs of 5K, 3K, and 2K. The event, commemorating the spirit of independence, united runners of all ages and backgrounds.
Distinguished Chief Guest, Koleti Damodar Gupta, Chairman of Telangana State Police Housing Corporation, graced the event with his presence. The event was further elevated by the esteemed Guests of Honour, including Jai Kumar, Deputy Commissioner Income Tax; Maxwell Trevor, International cyclist, Selector, Cycling Federation of India; Edwards Aloysius, Former Indian Hockey Captain & Olympian; L.Rajender, Former Indian Baseball Captain; A. Ravinder Reddy, General Manager of Telangana State Forest Development Corporation Ltd.; and Mr. R Rajappa, Chief General Manager of HPCL.
The heart of the event was the fierce competition among the runners. The 10K timed run commenced at 6 am, followed by the 5K timed run at 6:30 am, and the 2K and 3K runs at 7:30 am. The runners exhibited their stamina and dedication, resulting in exceptional performances and remarkable feats of athleticism.
The Independence 10k Run was not just about personal achievement but also a platform to support meaningful causes. The event partnered with NGO organizations Cardiac Rehab Foundation and Earth Needs You, reaffirming the commitment to health and the environment.
Exciting cash prizes totaling Rs. One lakh was awarded to the top three finishers in all age categories for the 10K run, and to the top five winners in the 5K run for both men and women. The winners' list included individuals who showcased exceptional speed, endurance, and determination across various age groups.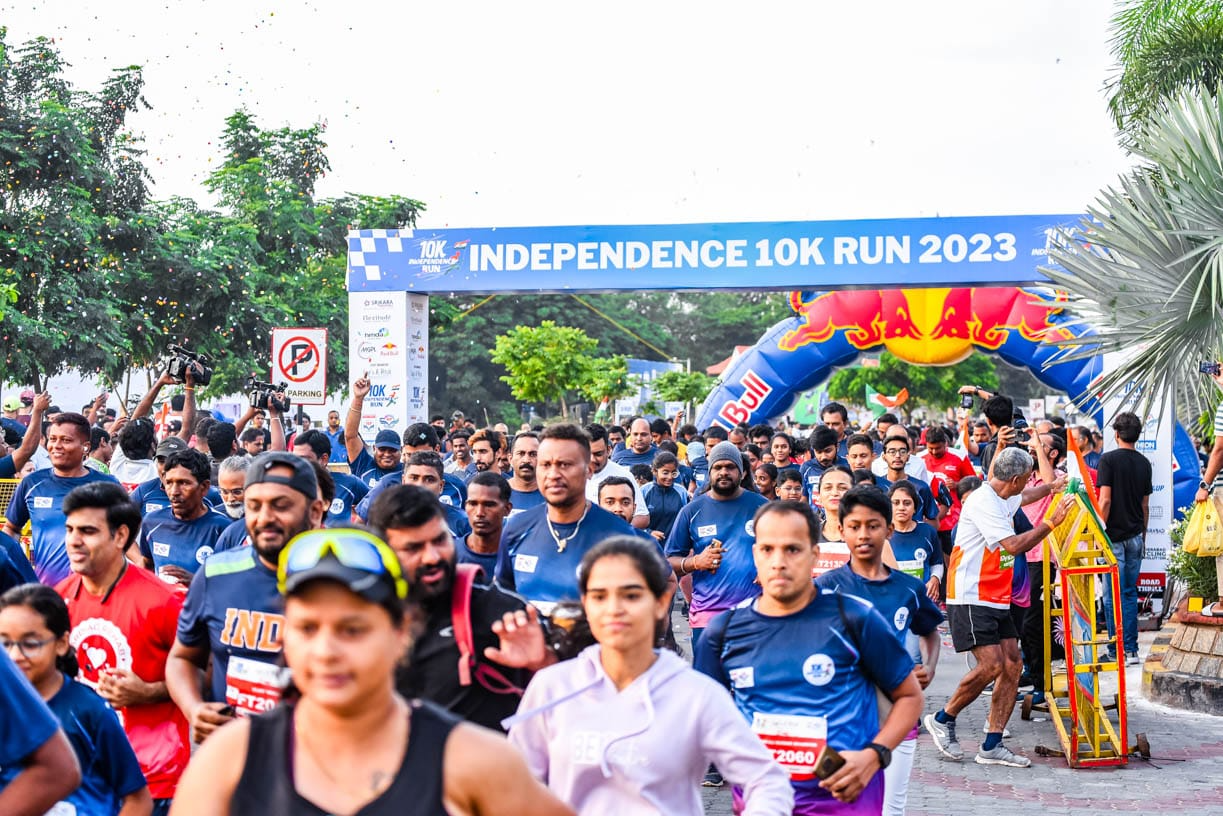 Nilesh Yadav & Kirti, Directors of Life's A Pitch, Adventure & Sports management company extended their heartfelt gratitude to all the participants, sponsors, partners & Volunteers who contributed to the success of the Independence 10k Run. The event exemplified the essence of unity, sportsmanship, and community engagement, celebrating not only the nation's independence but also the spirit of individuals striving for excellence in their fitness journey.
Kirti, Co-founder & Director
Life's A Pitch
Please find the pictures attached
Results
10K Timed Men
Age Group : 10-44
1st - Ramavath Ramesh Chandra - 0:34:36
2nd - Geeno Anthony - 0:34:41
3rd - T1375 - 0:35:14
Age Group : 45-54
1st - Aswini Acharya - 0:37:11
2nd - Jagan Mohan Reddy - 0:41:32
3rd - Rambabu Kodali - 0:46:10
Age Group: 55-64
1st - Satyanarayan Reddy CH - 0:51:24
2nd - Srinivasa Raju Bhetalam - 00:53:33
3rd - Badari Narayana Pulagam - 1:01:10
Age Group - 65+
1st - Pardha Saradhi T - 0:52:22
2nd - Nagabhushana Rao - 1:01:42
3rd - Ramarao Kandrapa - 1:06:04
10K Timed Women
Age Group: 08-39
1st - RICHA RAI 0:41:45
2nd - Shilpi Kothari - 0:57:46
3rd - Namita Kukshal - 0:58:54
Age Group: 40-49
1st - Suparna Das - 0:53:32
2nd - Shevvy Chin - 1:01:05
3rd - Shikha Sharma - 1:07:37
Age Group: 50 - 59
1st - Syam Seetepalli - 1:11:28
2nd - Vani J - 1:31:19
3rd - Krishna Kumari - 1:31:21
Age Group: 60 +
1st - Jonaki Mitra - 1:31:29
5kms Timed Male Top 5
1st - Ramesh Boddupalli - 0:17:07
2nd - Akhil Kumar - 0:18:01
3rd - Mohd Yunus - 0:19:32
4th - Meneni Sahishnu - 0:19:40
5th - Sagar Kumar - 0:20:36
5kms Timed Women Top 5
1st - Pinki Kumari - 0:26:37
2nd - Suhani A - 0:28:12
3rd - Thapaswi Aleti - 0:32:18
4th - Ramya - 0:36:53
5th - Trisha Yadav - 0:37:55