Hon'ble Governor of Uttar Pradesh, Smt. Anandiben Patel confers degrees at 4th Convocation of Sanskriti University
Bollywood Actress & Member of Parliament Hema Malini was honored with Doctorate Degree at Sanskriti University.
Sanskriti University, located in Mathura, Uttar Pradesh, proudly held its fourth convocation ceremony on the varsity campus, conferring degrees and diplomas to more than 2000 students from the 2022 batch. The event took place in the presence of the Hon'ble Governor of Uttar Pradesh, Smt. Anandiben Patel, who graced the occasion as the Chief Guest, along with several other dignitaries.
Sanskriti University Chancellor, Dr. Sachin Gupta, extended heartfelt congratulations to the graduating students, recognizing their exceptional talents and unwavering dedication throughout their academic journey. He proudly announced that this year has been a monumental one for Sanskriti University, securing the top position in patent filings among academic institutions, showcasing the remarkable efforts of the students and faculty.
Sh. R K Ģupta, Sh. Rajesh Gupta, Sh. Mukesh Gupta & various other guests from industry graced the occasion by their presence.
Addressing the gathering, Hon'ble Governor Smt. Anandiben Patel expressed her delight in being a part of the event, expressing her long-standing interest in engaging with educational institutions. She praised the university's commendable initiative of supporting the education of 100 girls from economically disadvantaged backgrounds, emphasizing the importance of nurturing every child's career growth. The Hon'ble Governor highlighted the positive impact that collaboration and assistance from both the government and individuals can have on numerous lives. Through partnerships with educational institutions, the support has extended to many Anganwadi centers, furthering the cause of education in the region. She extended her heartfelt congratulations to all the students receiving their degrees, encouraging them to excel in their future endeavors.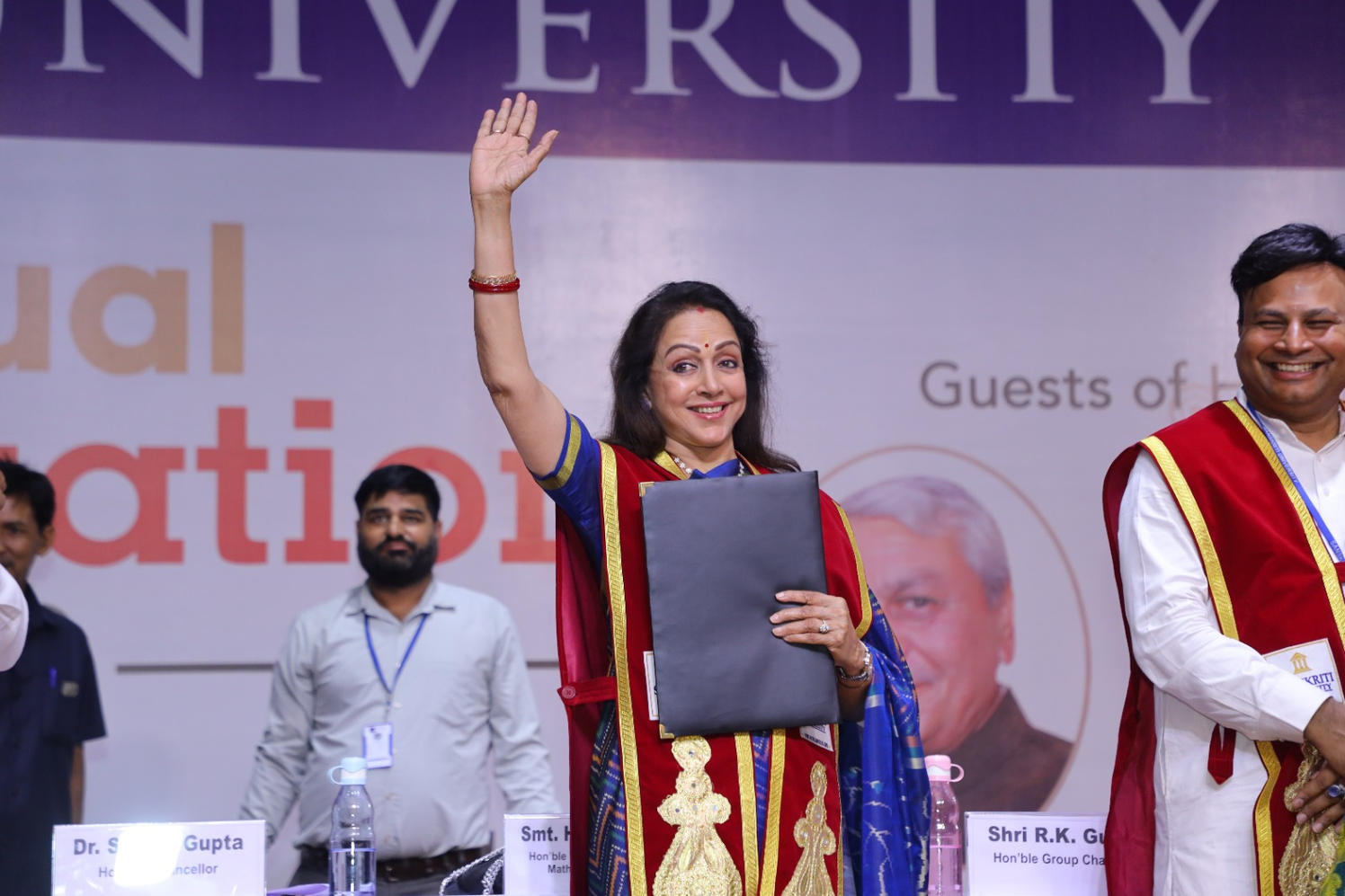 The convocation also featured inspiring addresses from the distinguished Guest of Honor, Smt. Hema Malini, the Member of Parliament from Mathura, who wholeheartedly congratulated all the students for their remarkable achievements. Smt. Hema Malini also graciously expressed her gratitude to Sanskriti University for bestowing upon her an Honorary Doctorate Degree.
During the ceremony, Dr. M.B. Chetti, the Vice-Chancellor of Sanskriti University, presented the Annual Report, highlighting the University's accomplishments and advancements in academic field.
The convocation was a momentous occasion, as the graduates took their pledges and shared their experiences at Sanskriti University. It marked the beginning of a new chapter in their lives, equipped with knowledge, skills, and determination to contribute positively to society.