An uninvited girl child from small village in Maharashtra to the Mrs India International platform, is nothing but a dream come true!
The exceptional response to the question asked by the judges favoured the decision for crowning Kanchan Mujumdar as Mrs India Brave, Bold & Beautiful 2023 at the Umrao, in New Delhi on 30th August 2023.
The journey so far has not been easy coming from a farmer's family with stereotypes around, Kanchan had challenging education being a girl child. Today she is an IT director travelled across the world getting new business opportunities in India. Even getting a basic education was not easy in times where girls were mostly there to take care of their siblings and do household chores. Despite of adverse conditions she challenged the conventional mindsets and welcomed the opportunities on her way. She became the first women from her village to get higher education and travel internationally. Apart from above, ten years journey of single parent was daunting, however it did not stop her to achieve her dreams and goals.
She always believed that one should have purpose in life, small gesture of inspiration, motivation and guidance can do wonders in changing lives. Since her childhood she had seen domestic violence and women around her not able to take decisions, this inspired her to break the rules and create her own identity. She further adds that reading inspirational stories could make her - today's confident and independent women. Someday her story can touch and transform lives of others.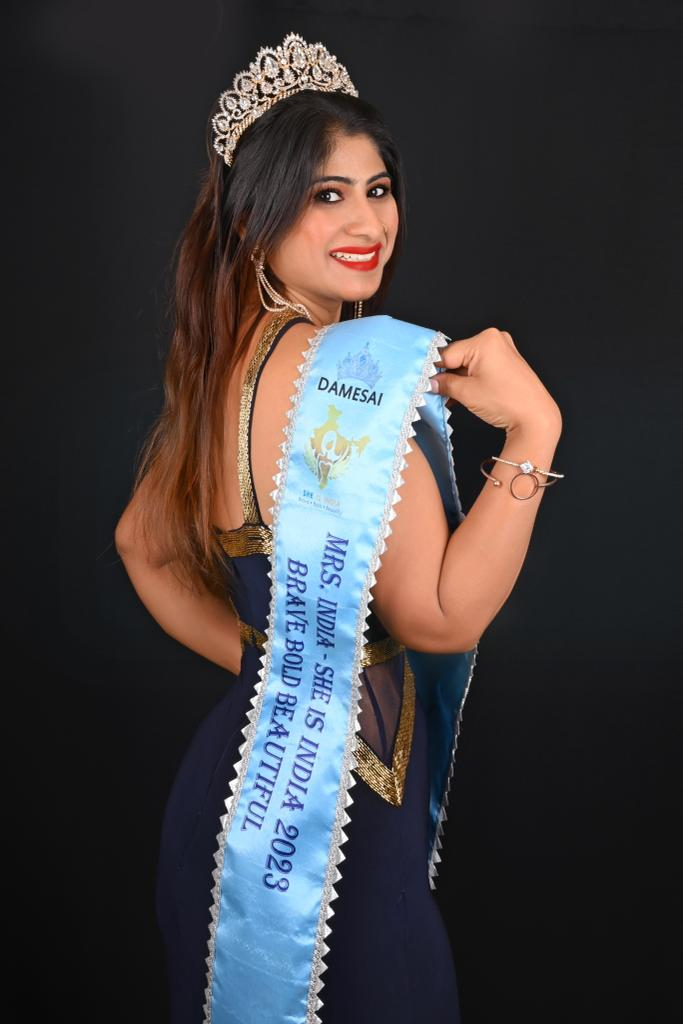 The journey to the pageant stage was not easy, it starts from strong mindset followed by managing day to day chores. Being an IT person, work round the clock managing challenging deliveries, taking care of son single handedly and at the same time looking after her fitness and grooming requires strong mental health. Further on, to change the notion that women's life is over after marriage, Kanchan dares to work towards her dream to reach the world stage while working on her career and other responsibilities. At 40 if she can live the dream, then any women can.
So far India is being looked like IT HUB, now with women like Priyanka Chopra, Sushmita Sen, it is new India which is beauty with brains. Her next foot forward is to be part of international stage with originality, Indian values and bring India on the Mrs universe map. #Sheisindia #Mrsuniverse
Mrs India Universe 2023 was the 8th Edition of Mrs India She is India pageant, unfolded at the prestigious venue, The Umrao, in New Delhi on 30th August 2023. The event, showcasing the very best of India's beauty and grace.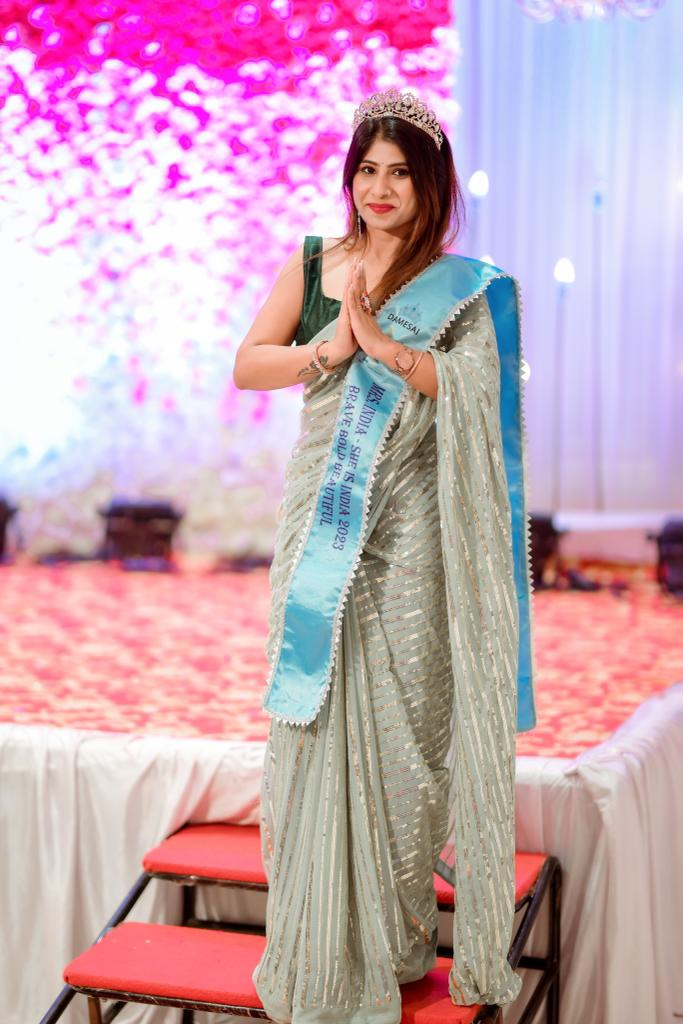 To the judge's question "If you go back in time, what advise you would give to your younger self?"
And the response was straight from her heart- I am proud of my younger self as her courage and unstoppable spirit nurtured the brave, bold & beautiful women of today.
Speaking to media name, Kanchan Mujumdar expressed, the tagline of Mrs India is Brave, Bold & Beautiful and getting crowned as one is a big responsibility to live up to the value and spread the message around the world. I'm extremely proud to be the recipient of this honour and to carry forward the message that She truly is India – Brave, Bold, and Beautiful. As I wear this crown, I stand not just as an individual achiever, but as a representative of every woman who dares to live the tagline and break barriers."